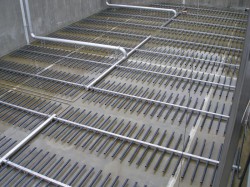 For equipping sewage ENVIMAC offers the following products and services :
Odour Control Systems
: Odourous comounds which are generated by fermentation of sewage, e.g. mercaptanes, hydrogen sulfide, ammonia, amines....The rise to the surface an d accumulate to higher concentrations. The air in such areas becomes poisonousand corrosive. Already small concentrations of specific odourous compounds can be smelt and are harmful to human´s health. ENVIMAC has a long international experience in supplying waste air treatment plants for the removal of odours, ammonia or other components by two stage adsorption using wet scrubbing with diluted chemicals in alkaline medium.
ENVIMAC plants are running fully automatic using control systems. They are optimized in enery and chemicals consumption and hance in operational costs by a well adapted full automatic control system.
Complete aeration systems
with different kinds of aerators :
Special Aerators e.g. for high fat concentration,
Membrane aerators
Tubular and Disc diffusors,
Fine Bubble Ceramic Discs Diffusors
Fine Bubble membrane Tube Diffusors