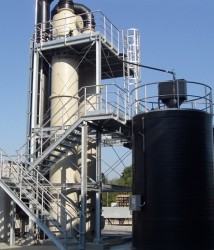 ENVIMAC is one of the experienced experts in the field of ammonium removal from water. We recover valuable products from waste gas, waste water , digestate and manure.
Large amounts of ammonia can be found in industrial and municipal waste water and can be turned into a basic chemicalwith great industrial significance. The physical and chemical processes are in principle simple: First, the PH-value of the water is raised by addition of alkali in the alkaline range.The dissolved ammonium ion turns into gaseous ammonia, this dissolves poorly in water and can easily be stripped.The ammonia gas is removed by steam or air from the water and can be re-bound with acid.The result is ammonium sulfate solution or ammonia solution. In order to optimize this we use high columns and special random power packings in combination with our patented processes: DekaStripp-Process and LSSW-Air Stripping Process.
Form more details please visit our homepage
ENVIMAC.com
.